FIND A PROFESSIONAL ASSEMBLER NEAR YOU BY ENTERING YOUR ZIP CODE BELOW
"If it comes in a box and requires assembly, we build it, so you don't have to!"





Thank you for visiting The United Assemblers Network (UAN). Our certified technicians are dedicated to offering both the residential and commercial customer high quality assembly, installation and repair services on a wide array of products, ensuring you the best services that the country has to offer. With over 25 years of installation and repair experience, no one provides these services better than we do.
We are your premier and best professional source in America for assembly, installation and repair services of basketball goals, backyard play sets, trampolines, fitness equipment, furniture, bicycles, sheds, and much, much more. We also offer maintenance programs to keep your fitness equipment in top working order for years of usage, so you'll never be inconvenienced by having your equipment break down and interrupt your workouts.
No matter where your purchase may have been made, including retailers, online dealers, manufacturers or distributors, The United Assemblers Network is more than capable of taking care of all your repair and assembly requirements. Our technicians are commercially insured giving you a high comfort level, and the peace of mind knowing that you are dealing with reputable and responsible professional technicians and business people.
The UAN is a high quality network and resource that you can rely on for professional installation of your products with unrivaled experience and warranties on installs and assemblies. You won't find a better source for installation of your products than the United Assemblers Network.
Thanks again for visiting the UAN, and we hope you will allow us the opportunity to serve your assembly, installation and repair needs!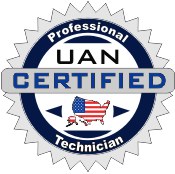 If you have any questions, please feel free to call our office at 614.735.8110